Real and Reimagined: A PEN Out Loud Reading List
Real and Reimagined: A PEN Out Loud Reading List
Salman Rushdie and Marlon James will discuss Rushdie's forthcoming novel Quichotte at PEN Out Loud on September 4. In anticipation of their conversation, here are 16 books that explore and redefine storytelling, reimagine beloved classics, and reflect upon the relationship between reality and fantasy.

Quichotte, Salman Rushdie
Inspired by Miguel Cervantes's classic novel, Salman Rushdie's latest book, Quichotte, follows Sam Duchamp, a mediocre writer in the midst of a midlife crisis who creates "Quichotte," a fictional salesman who sets off on a picaresque quest across America. Capturing the storytelling magic and sharp satire of Don Quixote, Rushdie creates a tragicomic portrait in this Man Booker Prize-nominated novel.
Don Quixote, Miguel de Cervantes
One of the most influential and celebrated Spanish novels ever written, Don Quixote is an immortal classic that traces the travels of Alonso Quixano and Sancho Panza as they live a life that imitates the stories of fairy tales and knighthood. Part satire, part commentary, Don Quixote is a witty and inventive tale.
Black Leopard, Red Wolf, Marlon James
The latest release from 2015 Man Booker Prize-winner Marlon James, Black Leopard, Red Wolf is a sweeping fantasy that draws on African history and mythology to tell an epic story that examines the truth, desire, and power that affect an evolving landscape and the characters who journey through it.
Autobiography of Red, Anne Carson
Loosely based on the Greek myth of Geryon and Herakles, Autobiography of Red is a novel written in captivating verse that tells the story of a young boy who happens to be a red-winged monster. Passionate and beautiful, Autobiography of Red is a tender tale that balances pain and love atop Carson's brilliant narration.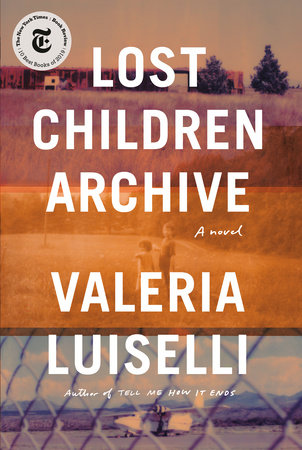 Lost Children Archive, Valeria Luiselli
Inspired by true events concerning the separation of children from their parents at the Mexican-American Border, Valeria Luiselli details a powerful story about a family of four and their cross-country trip through the United States. Reviewed in The New York Times as "electric, elastic, alluring, new," this novel is a necessary read on migration and familial bonds.
On Beauty, Zadie Smith
This lauded reworking of E.M. Forster's Howard's End follows two mixed race families in the United States, drawing comparisons on race and class between the United States and the United Kingdom. The novel's discursive style echoes Forster while re-engineering the story for the contemporary world.
Destroyer, Victor LaValle
A retelling of Mary Shelley's Frankenstein, Victor LaValle's graphic novel, Destroyer, merges present-day issues with compelling and fantastical imagery. The story follows Destroyer, the latest version of Frankenstein's monster, as he undertakes a quest for vengeance in modern-day America.
Home Fire, Kamila Shamsie
Shamsie reimagines Sophocles' tragedy, Antigone, with British Muslim characters, stitching over Sophocles' themes with salient and contemporary settings and issues: airports, browser histories, and globalization, as the novel's narration moves between siblings across Europe, the United States, and the Middle East.
Gods of Jade and Shadow, Silvia Moreno-Garcia
Set in the Jazz Age in Southern Mexico and inspired by Mexican folklore, this magical novel is about choosing your own path. The novel follows Casiopea, a young woman who dreams of a life of her own and is sent on a harrowing fairytale-inspired adventure across Mexico and below its surface.
The Plotters, Un-su Kim
Set in an alternate Seoul, The Plotters is a crime novel that is both fantastical and thrilling as it enters South Korea's assassin industry. Riddled with questions of morality, Kim grapples with how one can exist and maintain honesty in a world filled with corruption.
The Other Americans, Laila Lalami
A love story, a murder mystery, and a family drama, The Other Americans investigates the death of a Moroccan immigrant and the cast of characters this tragedy draws together. This is a powerful and timely novel about the forces that obfuscate truth, and where it can be found.
Turbulence, David Szalay
In this idiosyncratic, highly original novel, Szalay follows 12 intersecting characters through 12 flights across the globe, and the startling ripple effects they have in each other's lives. Fast-paced and profoundly moving, Szalay is a skilled storyteller, and this novel is no exception.
Lincoln in the Bardo, George Saunders
Winner of the 2017 Man Booker Prize, Geroge Saunders's critically acclaimed novel, Lincoln in the Bardo, recounts the grief and death of Abraham Lincoln's son over the span of a single evening in the bardo: the transitional state between death and rebirth. An experimental novel filled with a cast of 166 characters, this book is a dazzling feat of honesty, history, and craft.

The Underground Railroad, Colson Whitehead
Winner of the 2017 Pulitzer Prize for Fiction, The Underground Railroad is an alternate history that tells the story of two slaves, Cora and Caesar, and their bid for freedom on the Underground Railroad, a literal rail transport system that runs northward through America to help escaped slaves. The Underground Railroad is a modern day myth and a testament to America's past and present.
American Gods, Neil Gaiman
Neil Gaiman's Hugo and Nebula award-winning novel, American Gods, follows ex-convict Shadow as he navigates a war between Old and New American Gods. With a cast of characters drawn directly from world mythology, Neil Gaiman creates a striking fantasy read.
Sing, Unburied Sing, Jesmyn Ward
MacArthur Genius Grant Recipient and National Book Award Winner Jesmyn Ward returns with her third novel, Sing, Unburied Sing, which orbits a black family in Mississippi. Described by The Philadelphia Inquirer as "an odyssey through rural Mississippi's past and present," the novel explores temporality of place through intergenerational narratives on ghosts, legacies, and love.